International Mother's Day 2012 is approaching, EP Ya-new "Mother's Day" special section dress, a grand ceremony for the International Mother's Day, I hope to bring elegant mother arrived in harmony between body and mind, bringing their senses and mind double pleasure.

Every working mother's life is occupied by a variety of important others - children, husbands, parents, girlfriends and so on. Maybe you are already accustomed to shuttling through the various roles, but you absolutely need to find time to spoil Yourself, everything starts from this Mother's Day!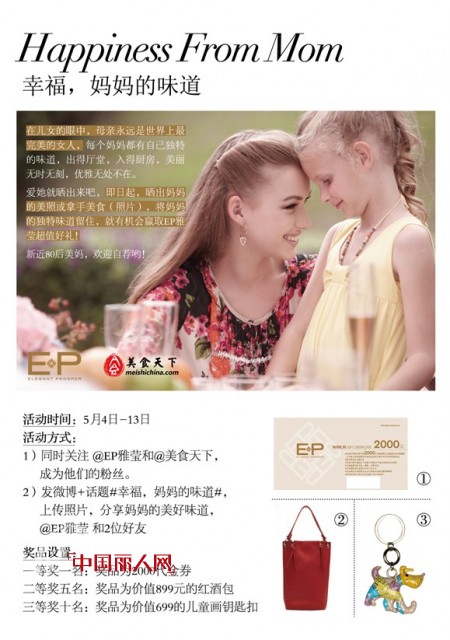 EP Ya Ying Mother's Day clothing line, try now proxy fashion applying cognitive and extension of the East mother's aesthetic qualities, not only the modern mother's fashion, personality reflected most vividly, but also the endless gratitude children integrate in the ultimate elegance and comfort of , Dedicated to all those who have a high quality of life pursuit of the perfect mother.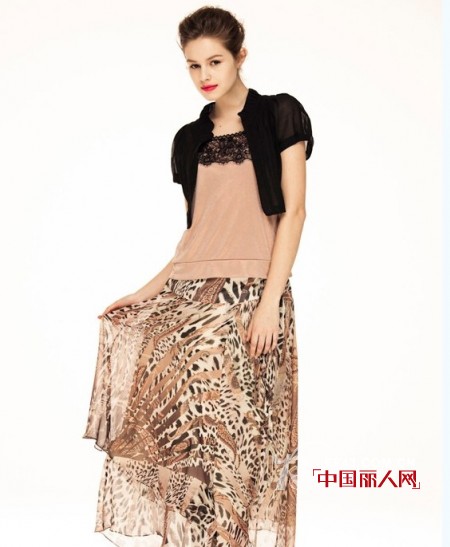 Clothing not only represents a woman's taste, personality, but also reflects a woman's attitude to life, the degree of concern to their own, every hard-working mother, deserves to have a feel happy clothes. EP series of new Mother's Day series of EP, the overall design simple atmosphere, reflecting the mother's selfless and broad; fine carved fine detail, the symbol of maternal love delicate and thoughtful, whether in the collar to increase the crystal sequins design, or fabric silky, breathable, Comfortable, or generous one-way fold chest pleated design, light bloom of beautiful prints will make you see this world a different kind of beauty, will see the unique beauty never met before; EP series of new Mother's Day with the use of Unique color classic, with a soft pink nude depicting the kindness of the mother to give visual warmth camel highlighting the mother's warm embrace, with a steady dark green set off the great maternal sense of love, in addition, several skirts in the waist special Care was thin processing, wrinkles hanging naturally, so that mothers feel comfortable wearing.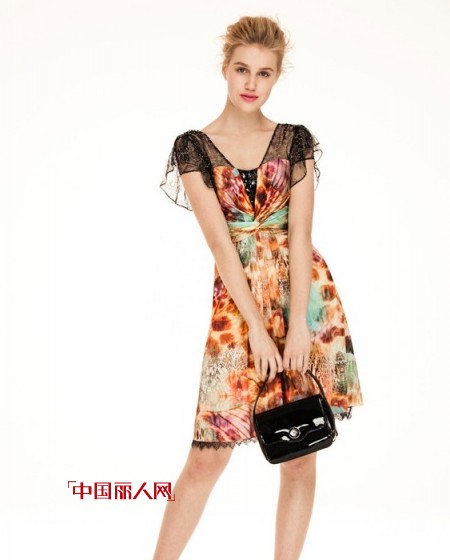 In addition to launching new apparel, EP at the same time launched the "happiness, the taste of mom" related to microblogging activities: the sun on the microblogging mom's beauty or good food, to retain the taste of happiness, have the opportunity to win the EP Ya Ying Chao Value Gifts, also welcome their mothers recommended! Activities see http: t.cn/zOHJVQ9.

May every great mother be able to sneak in and give yourself a brief and wonderful spiritual journey, so that the physical and mental care can be kept away from the exhaustion of EP Ya Ying, to feel the world again and enjoy life again.

The most of Metal Keychain is made by zinc alloy. The Zinc alloy is also one of the strong plasticity of metal, so we can get more types of metal keychain, such as cartoon types, brand types, simulation types and so on. Most of company use the metal keychain as a gift for their customers.
The couple keychain is one of main parts of metal keychain. Usually it used for wedding as gifts, we can laser logo on back of the metal keychain, customized the Personalized keychain.



Metal Keychain

Metal Keychain,Metal Keychain Clips,Metal Keychain Pipe,Gold Metal Keychain

YIWU DSHINE JEWELRY CO.,LTD , http://www.dshinejewelry.com